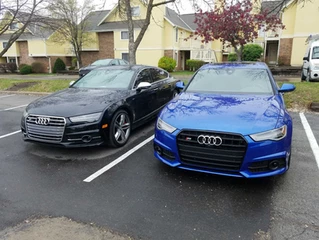 Word is getting out that Cornerstone does superior work!
Cornerstone Window Tinting is starting to get quite a reputation in Overland Park for quality work. This week we've done several high end vehicles that realistically could all be displayed in car shows. We're starting to see more high end vehicles than usual in our shop and we couldn't be happier about it.
Some of the cars we've done in the last few weeks include:
Audi RS7
Mercedes-Benz C Class 4matic
Audi S5 Coupe
Audi S6
Audi A4
Lexus ES350
Lexus IS250
BMW X5
Audi S7
Infiniti JX35
Dodge Challenger Hellcat
… and even more!
We love our word of mouth customers and our car club enthusiasts… If they know you do great work and you treat them well, they'll send you customers for life and we love that!
Cornerstone has over 13 years in the automotive industry and we truly desire to be known as the place to go in Kansas City if you have a luxury vehicle and want the job done right.
We're thrilled to see the word is getting out and our reputation is great!
…until next time!