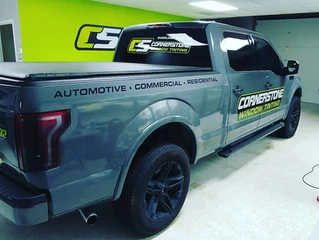 The new Cornerstone truck is wrapped and looks great!
A few weekends ago, we decided that it was time to finally get some graphics on our company truck.
Jon spent 3 long days over the weekend wrapping his 2015 Ford F150 in "Battleship Grey", then afterwards applying reflective vinyl over that with our company logo and information.
The reflective vinyl is really cool to see at night time as all of the text glows bright when lights hit it. All of the black text turns to white as well.
Now we can reach many more people in the Kansas City area with very effective advertising. Take a look or stop in and see it in person.
Until next time…
Jon
Owner
Cornerstone Window Tinting