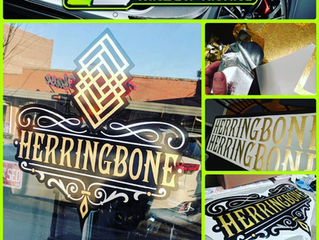 Some recent work for our friends at Herringbone in Downtown Overland Park
Some people are surprised to hear that Cornerstone offers more than just window tinting services.
We actually offer signs, graphics, vehicle wraps, paint protection film and large format printing as well.
In the case of this particular story, we happened to meet the needs of our friend Simon, who just opened his first barbershop as a small business owner.
He is the proud new owner of Herringbone Hair in downtown Overland Park, KS.
Just a few weeks ago, upon stopping in to get a haircut, Jon was told that Herringbone was needing to get some signs and other things in place for their grand opening. It was a good thing that they mentioned it, because we were able to extend that service to them by way of a beautiful gold and silver leaf sign for their storefront. We we able to get it created and installed just in time for the news to come and do a story on their grand opening.
We wish them the best on their new journey of being small business owners!
Do you have a need for signs or branding?
Give us a call for a consultation!
Thanks for reading!