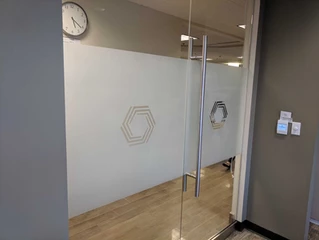 Some decorative frost film for one happy customer!
Today we added some decorative frost film to some conference room doors for our new friends at Pro Pharma Group in Overland Park Kansas. We custom etched their logo into the frost material and applied it, giving it a uniquely custom and professional look. They were very happy with the results.
Have a unique need? Call us!
913.481.7392
Or email us at support@cornerstonetint.com
Have a great day!